our founder has spent several decades not only revitalizing the forest, but also building enclaves of luxury within the lush greenery. our accommodations range from the quaint and traditional to modern efficiency.
there's even a palatial villa for pampered privacy. whatever your preferred surroundings, there is a place for you at kebun rimba private estate.
whether you wish to be surrounded by trees, or if you crave the simple village life. whether you want solitude or a space to entertain, we have the ideal accommodation.
Old Malaya
kebun rimba has recreated the ambience of a quaint malay village, with a cluster of three traditional malay-style wooden "kampung" houses, all lushly appointed for the comfort of our guests. the entire old malaya area is decorated with flower-lined walkways, beautiful trees, and water features, including several fish ponds, a fountain, and a small waterfall. perfect for short evening strolls, or a contemplative interlude on one of the benches beneath the trees.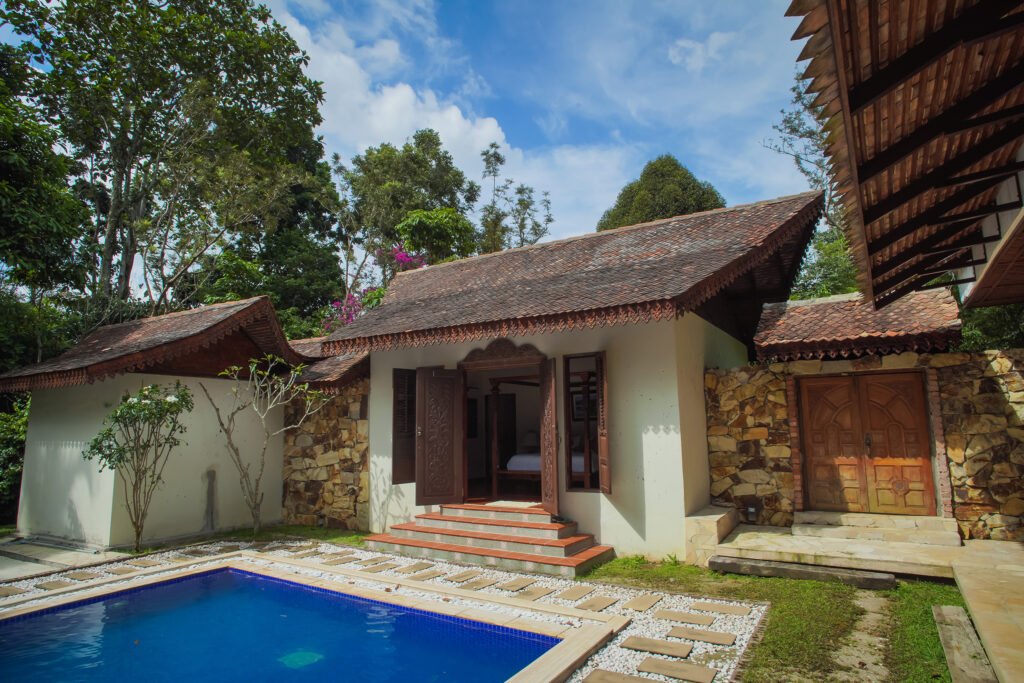 the grand villa is a majestic 6 bedroom private villa that overlooks old malaya. the villa includes an event space (the anjung) that can easily accommodate 150 – 200 people. the anjung also has a large showcase kitchen with an open viewing area for cooking demonstrations. the anjung has bathroom/changing facilities for both men and women.
the grand villa also includes a private access only swimming pool, with ample facilities for hosting a poolside event. barbecue facilities can also be provided.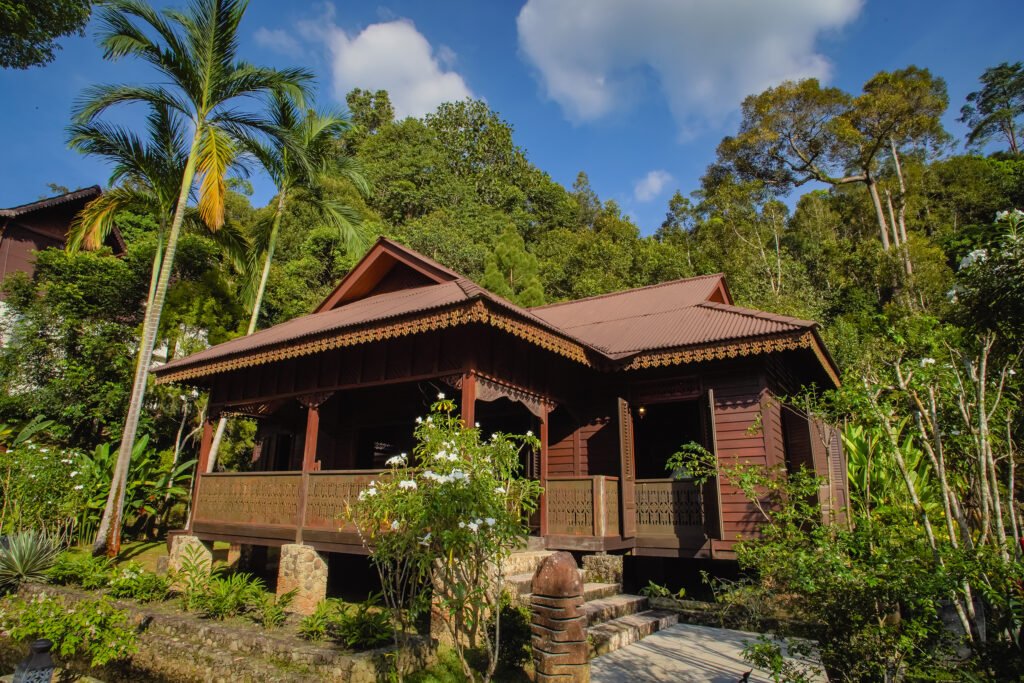 A warm and inviting two bedroom house built in the malay village style, with a spacious living area and an outdoor deck. This house can sleep anywhere from 4 to 6 people. experience the idyllic village lifestyle with the comfort and convenience of modern amenities.
this house was built in kedah almost 150 years ago, and belonged to the village headman – "penghulu" – and was faithfully relocated, piece by piece, to our estate. the house features extensive traditional carvings, a massive living area, and a huge bedroom with two king sized beds. the bathroom facilities are semi-open air, to preserve the traditional atmosphere. 4 to 6 people can sleep in this house, depending on special arrangements, extra beds may also be provided.
nordin ahmad was a famous malaysian actor who was primarily active in film during the 1950's. his house was also transported to our estate, and is available at the pleasure of our guests. this house has an open floorplan that can sleep 2 to 4 people.
The Pines
a secluded one bedroom cottage with a pantry, that is perfectly suited to communing with nature. the pines is surrounded by majestic trees, and is situated along the perfect pathway for an evening walk through the light forest.
this charming yet modern cottage was named for the lady amherstia nobilis – the magnificent flowering tree that grows outside its door. Accommodates up to 4 people.
COPYRIGHT 2020 KEBUN RIMBA. ALL RIGHTS RESERVED.